To configure a repository, start by clicking the Settings link at the bottom right of the
page. By default you'll go to the Options tab within Settings, as shown in Figure 5-8, which allows you to configure some high-level settings.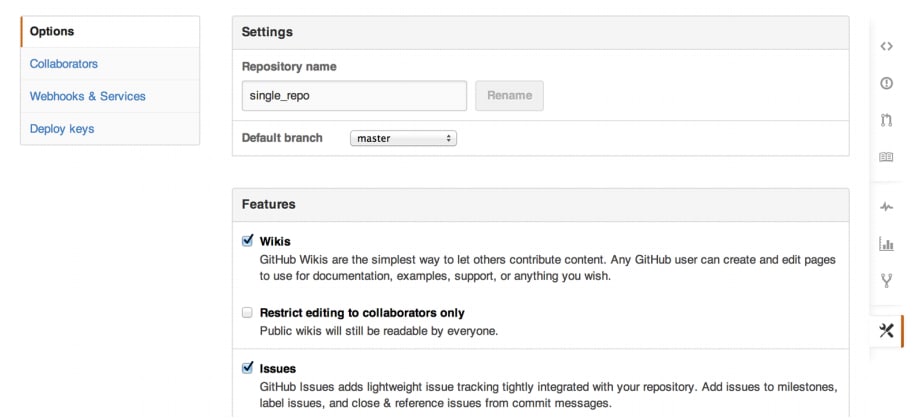 The first option is to rename the repository. If you modify the repo name within the text box, the Rename button will become active, allowing you to vary the name of the project. Don't worry if your developers are already connected to the project.
They won't have to change anything—anybody using the old name or URL to access the project will be redirected automatically.
You also get the option to change the "Default branch" from master to any other
branch.Generally it's best to leave this option alone, but if your development team really wanted to create a new default branch, they could do so and you could make it
the default branch here.
The default branch is used for features like auto-closing of issues. Usually, when you have a commit message that says something like "closes #10" or "fixed #10,"
when that commit is merged into the master branch, it'll auto‐ matically close issue #10.
However, it's really when the commit gets merged into the default branch, so if you wanted to have a default branch named "trunk" or some‐ thing else, you could do that if you really wanted to.
On the Settings→Options screen, you also get the chance to configure wikis and
issues. By default, new projects have both wikis and issues enabled.Just uncheck the boxes to disable them. If you want to limit the wiki on a public project so that only collaborators can edit the content, check the necessary box.
As you go further down the Settings→Options screen, you'll see some additional con‐
figuration settings,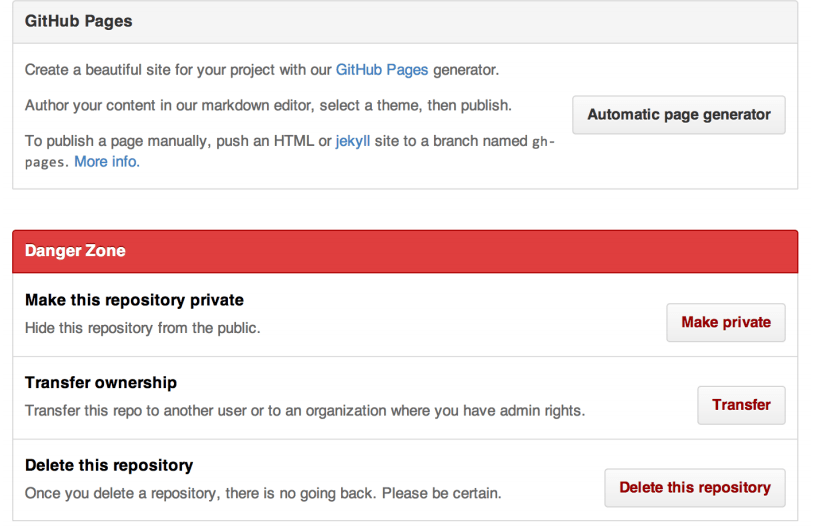 If you'd like to add a website to the project, click "Automatic page generator" in the
GitHub Pages area to configure that.Finally, we come to the "Danger Zone." It allows you to change the accessibility of a project between private and public.
It also gives you the option to transfer the owner‐ship of the project to another user or organization and, if you really want, it allows you to delete the repository. Don't worry about hitting the Delete button accidentally.
If you click the Delete button, you'll be asked to confirm that you really want to do that,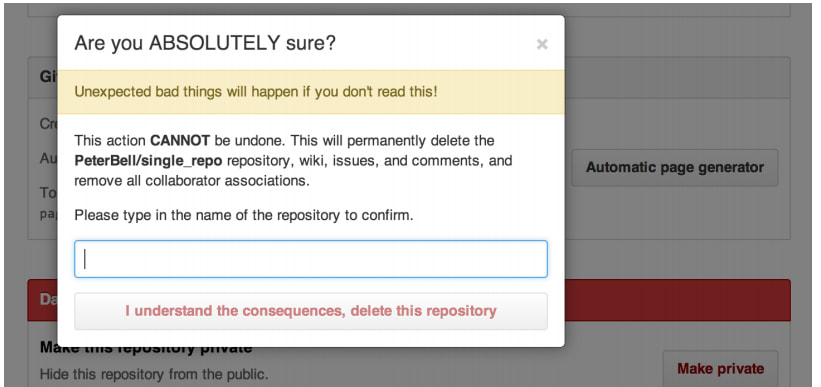 If you like this post, don't forget to share 🙂