Web page size and performance for the Alexa top 2,000 retail websites. The unbridled growth of websites revealed by these reports is pretty shocking and it has some unfortunate side effects in terms of web performance.
Let's take a closer look. Thanks to rapid development in web servers, browsers and the technology sphere in general, some of the measurements are difficult to correlate over the entire span of these reports.
Looking at comparable statistics, however, we will see that average page size grew from around 780KB and 86 resources in 2011 to 1,100KB in 2012 and over 1,400KB
and 99 resources by the time of the first 2014 State of the Union Winter Report.
To dig a bit deeper into the component specifics of this website growth trend, I headed over to the HTTP Archive.
Using the "trends" tool, I chose to display data for the highest 1,000 sites from May 2011 to early 2014.
This report illustrates the expansion in total page transfer size and number of requests over that period, then breaks the stats down by component, including HTML, JavaScript, CSS, images, and more.
I'll just show the total and HTML trends here, but you can clearly see that average page size for these sites starts slightly below 700KB in 2011 and rockets up to over 1,400KB by early 2014.
Every category except Flash transfers shows similar growth over this era , and Flash re‐
mains roughly level in transfer size while declining in popularity.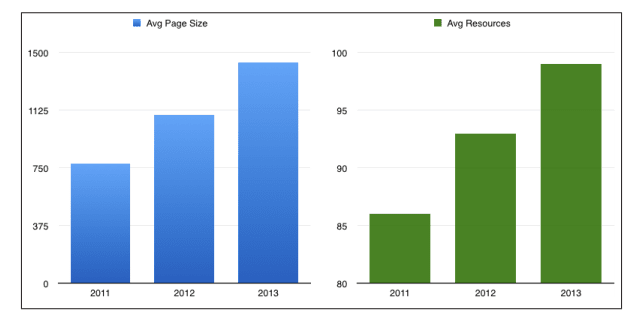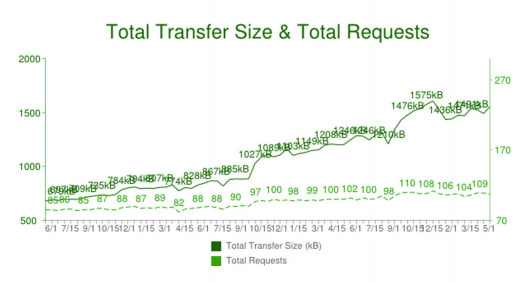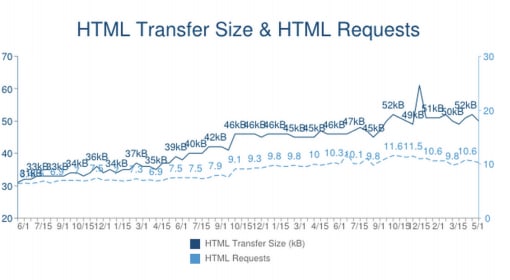 Looking for some additional comparable data, I visited the web Archive and pulled up versions of Amazon's home page from the April archives of each year starting in 2011.
Using the Network tab of the Chrome developer tools, I measured the traffic created by loading each version of the site.
The archived 2011 site loaded 456KB in 81 requests; the 2012 site loaded 467KB in 68 requests; the 2013 site loaded 658KB in 126 requests; and therefore the archived 2014 site loaded 777KB in 134 requests. That's a 70 percent increase in page size and a 65 percent increase within the number of requests needed to load the page.
It's not a perfect test, but the results provide an interesting time-lapse comparison nonetheless. For further comparison, I also loaded the present Amazon site: 2.6MB loaded with 252 requests.
If you like this post, don't forget to share 🙂